---
---






Unitize Business Philosophy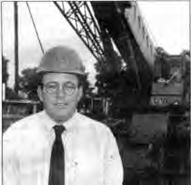 Allow me the opportunity to introduce myself and reintroduce you to Unitize Company, Inc. and its well regarded, wholly independent subsidiaries: Orbit Movers & Erectors, Inc., Orbit Sheet Metal Co., Inc. and S&D/Osterfeld Mechanical Contractors, Inc.
Being one of the Midwest's largest and oldest Industrial Contractors, I am certain that we have been and will continue to be of valuable assistance to you now and in the future. Our satisfied clients include General Motors, Panasonic, Honda, Miller Brewing and Chrysler. In addition we have provided services to firms engaged in plastics and synthetics, hydraulics and robotics, organic/inorganic chemicals,
gas transmission and distribution, and metal processing and fabrication. Our service include: Pressure and Process Piping, "PP" and "R" Welding, Certified Underground Tank and Boiler Repair and Installation, Ambient Air Quality and Environmental Management Systems, Ventilation and Process Ductwork, HVAC, Custom Metal Fabrication and Field Installation. We are well known for Heavy Machinery Rigging and Moving, Crane and Equipment Rental, the Fabrication, Installation and Repair of Industrial Conveyors, Bridge and Jib Cranes and Special Application Mechanical Services.
We are dedicated to providing the services you need -- high quality, integrated services delivered at a lower cost -- never compromising safety or performance. Our independent subsidiary "sister company" structure ensures you of individualized attention. Seasoned professional project managers are on-site and in control, utilizing the best and most efficient methods. You, our client, are always assured of quality workmanship, timely results and a commitment to excellence.
The key to our success is clearly evident and rather simple. We do the job right, the first time, every time, providing personalized service and taking pride in a job well done. We don't settle for second best and neither should you.
Any courtesy you might extend to insure our companies continued inclusion to your firm's contractor / vendor lists is appreciated. I am hopeful that we may meet so that we might gain a greater insight as to how our companies may be of additional service. We look forward to what we know will be a mutually beneficial and lasting business relationship.
Respectfully,
James R. Arnett, Jr., Chairman of the Board

---
---
Unitize Company Profile

Unitize Company, Inc. (Unitize) is composed of three wholly independent subsidiaries: Orbit Movers & Erectors, Inc., Orbit Sheet Metal Co., Inc., and S&D/Osterfeld Mechanical Contractors, Inc.
Unitize is parent to some of the oldest and largest industrial contractors in the Midwest. Based in Dayton, OH its facilities include a city block complex consisting of a complete metal fabrication shop, 4-bay body shop, vehicle / equipment repair and maintenance shop, short term warehousing, tool and equipment storage facilities, as well as parking and staging areas for cranes, trucks and trailers. Administrative offices for all companies are also centralized at this location. Additional facilities include a 150,000 sq. ft. secured controlled access warehouse and a 4-acre piping fabrication facility.
The subsidiaries of Unitize regularly employ over 200 skilled tradesmen representing 6 union affiliations. An experienced Project Management Team of 20 is complemented by a skilled support team that includes full time buying, accounting, marketing and administrative staff.
Orbit Movers & Erectors, Inc., Orbit Sheet Metal Co., Inc., and S&D/Osterfeld Mechanical Contractors, Inc. are known for their skill and experience in serving the needs of the automotive, paper, food/beverage, chemical, plastics, electronics, metals and other heavy manufacturing industries.
Past and current clients include: General Motors Corporation, Ford Motor Company, Honda of America, Chrysler/Acustar Corporation, Navistar, Panasonic Corporation, Corning Corporation, Appleton Paper Corporation, Bay West Paper Company, Armo Steel/AK Steel Corporation, DAP Inc., Cargill, Hobart Welding Corporation, Baxter Healthcare Corporation, Miller Brewing and the James River Corporation.

---
---

To contact us:

This site is best viewed at
1024x768 resolution.

Last Updated: December 3, 2021
Copyright 2010 Unitize Company, Inc.

1101 Negley Place
Dayton, OH 45402

Phone: 937.277.8080
Fax: 937.277.3951